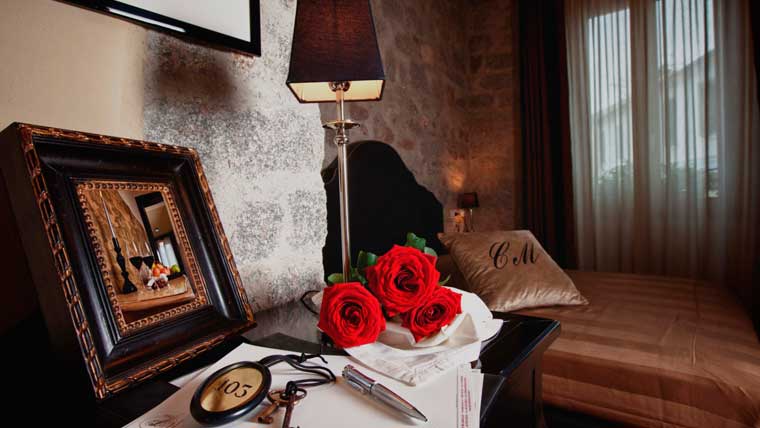 Hotel La Locanda del Conte Mameli
A weekend dedicated to relaxation and well-being in one of the most popular and unique hotels in Olbia "La Locanda del Conte Mameli".
Cuddle and Wellness Week End 3 days 2 nights
Price
150 Euros
/ Person.
FRIDAY
Arrival to the Hotel.
Welcome drink in the room, with tasting of typical products.
Gourmet Dinner.
SATURDAY
Breakfast.
Free Morning.
Transfer to the SPA
SPA 1 hour 30 minutes
Transfer to get back to the hotel
Free Evening.
SUNDAY
Breakfast in the Room.
Late check-out.
HOTEL
The Hotel La Locanda del Conte Mameli in Olbia offers an unmissable stay on the way or on vacation. In the Locanda del Conte Mameli you will discover a luxurious and intimate environment: you will find happiness in the peaceful atmosphere of a historic house restored with great attention to detail, where hospitality and conviviality are lavished by the hosts and represent, more than ever, a point of excellence of the Emerald Coast.
SERVICES
The overall services provided by the hotel to its guests are:
Lounge Bar Service
Newspapers and magazines
Wake-up call
Panoramic Terrace
Elevator
Fast Check-in and check-out
Safe-deposit box
Heating
Non-smoking facility
Air Conditioning
Private Parking
Wi-Fi, Internet connection, Sky TV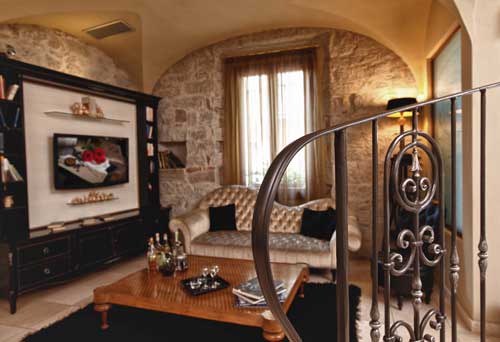 Lounge area with giant flat-screen satellite TV
Newspapers and magazines
Lounge bar service where you can drink coffee or relax after dinner with the best liquors or a fine glass of wine
Small private room 8-10 places for business meetings or work meetings
Panoramic terrace (Solarium)
Wine cellar – wine shop with a wide range of wines and ancient artifacts of the Roman Aqueduct of 100 A.D.
WHERE IT IS
To view the location of the hotel La Locanda del Conte Mameli click on this
link
.
For information on how to book this package, call 0789/21329 or fill out the request form by clicking the button below.