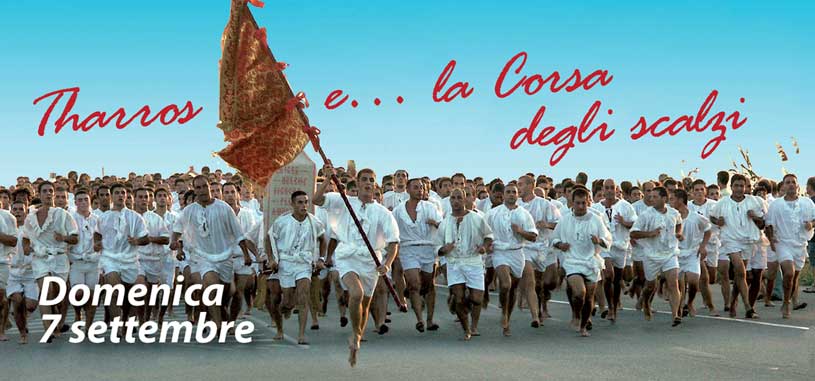 Sunday dedicated to relaxing, tradition and fun. On
September 7th
Sardinia Magic Travel
organizes a day in the Sinis Peninsula for the
Corsa degli scalzi.
The programme includes a morning visit of the majestic
archaeological site
in
Tharros
which was one of the most important and impressive Phoenician-Punic and Roman towns of the Mediterranean, overlooking the whole Sinis Peninsula. At the end of the tour we will stop in a farmhouse nearby for lunch, and we will continue our tour to
S'archittu
the unique rock of the area. The day will continue in
San Salvatore
to watch the spectacular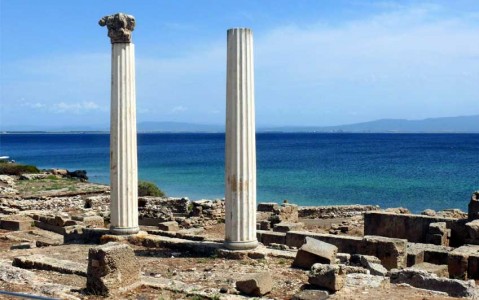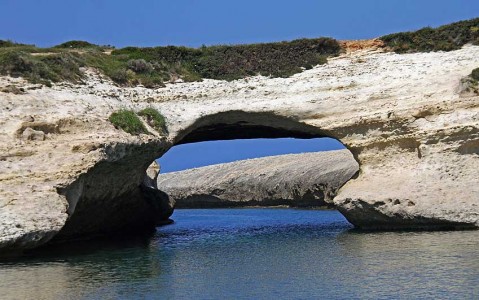 "Corsa degli Scalzi"
that has been performed, according to the tradition, since the end of 1500, with an army of 800 barefoot men carrying the statue of Martyr San Salvatore, from Cabras to the small village that still retains his name. Hundreds of young people, wearing a white cloak and barefoot, run while carrying the statue to the village for the celebration of the function, and where it remains until Sunday, when among the crowd it is brought back to Cabras, while still running and raising so much dust. According to the tradition the aim was to intimidate the Saracens by making them believe that the "Scalzi" were a huge army capable of fighting against them. We will start our way back from Cabras at around 8:00 PM to be in Olbia about two hours later.
DEPARTURE FROM OLBIA
Sunday, September 7th at 9:00 am
RETURN TO OLBIA
Sunday, September 7th at 10:00 pm
TICKET
Adults 60,00 Euros
Children (4-11 years) 40,00 Euros
THE PRICE INCLUDES
Travel by bus from Olbia to Tharros, admission ticket to the archaeological site, transfer to S'Archittu, lunch in a restaurant, transfer to San Salvatore, return to Olbia.
THE PRICE DOES NOT INCLUDE
Extras and in general anything not specifically mentioned in "The price includes" or in the programme.
For information on how to book this tour, please call 0789/21329 or fill out the request form by clicking the button below.